In a week that got increasingly worse for Twitter, a giant bright light appeared from a familiar source looking to capture new users and everyone who might be ashamed or have feelings of abandonment from what the little blue bird app has become. Yes, Mark Zuckerberg and Meta have just released Threads. I'm sure this makes the cage match between Elon Musk and Mark Zuckerberg even more of a real thing, but please don't, for humanity's sake.
Threads look and feel a lot like Twitter. Its debut in the app store was quietly rolled out on Independence Day. Signing up to become increasingly independent of Twitter couldn't be easier—especially if you already have an Instagram account. Once you download the app, the following information is displayed before tapping the Join Threads button:
Powered by Instagram

Threads is part of the Instagram platform. We will use your Threads and Instagram information to personalize ads and other experiences across Threads and Instagram.

The fediverse

Future versions of Threads will work with the fediverse, a new social media network that allows people to follow and interact with each other on different platforms, like Mastodon.

Your data

By joining Threads, you agree to the Meta Terms and Threads Supplemental Terms and acknowledge you have read the Meta Privacy Policy and Threads Supplemental Privacy Policy.
Once you've joined Threads, followers from Instagram may appear in your very Twitter-like feed. Is it too much? You can control what you see in settings by adjusting preferences. Your choices are to allow Likes, Replies, and Mentions…  From everyone, From people you follow, or Off. The security is tied to Instagram, and most preferences echo your Instagram account. You can import your profile photo, bio, and Instagram followers. It's effortless to begin. Unlike Twitter, each post or thread can be up to 500 characters and include images, GIFs, or up to five minutes of video. No #hashtags… yet.
Last night, it was difficult for me to close the app as more and more people kept joining. My followers increased as I read thread after thread about how cool this new app could be — but it needs hashtags, photo editing capabilities, a home feed for the people you follow, and the ability to switch accounts. So many friends and peers have joined this app, and I'm sure it will continue to grow. Adjustments will be made as the app is less than 48 hours old, but those changes, and an edit button, will make Threads far superior to its rival. Even the app's name seems to have been taken from Twitter, right? Don't we call conversations or a series of tweets on Twitter a thread?
It will be interesting to see what happens next. For the last year, many apps have tried to dethrone Twitter — Mastodon, Post News, Counter Social, BlueSky, and now Threads. So far, more than 30 million people have signed up for Threads. I am hopeful and cautiously optimistic that this will be the ONE as more and more people and brands join Threads. I've already seen some fantastic posts and buy-in from some of the loudest voices in marketing and social media.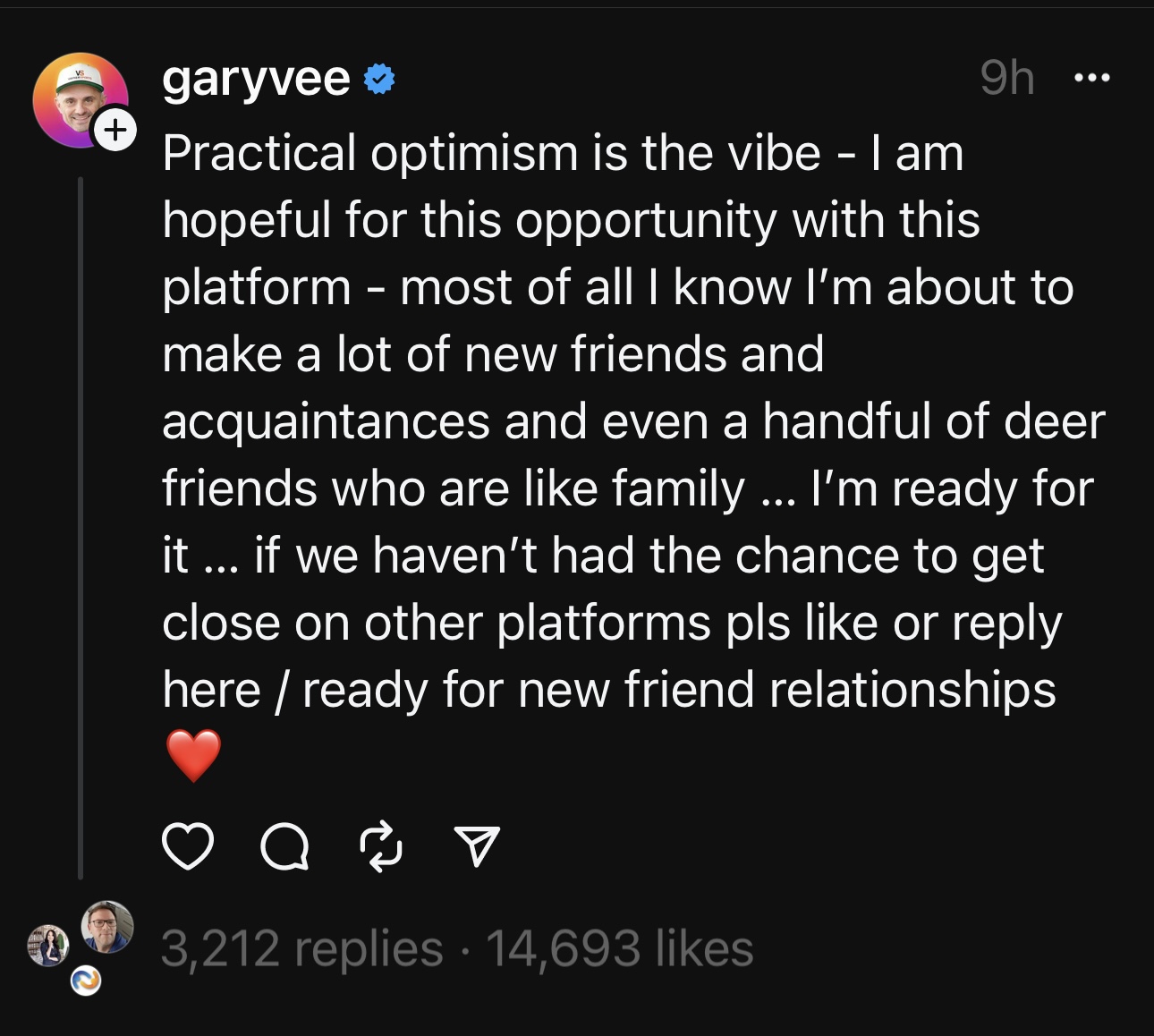 This could be the beginning of what may become the world's most popular, widely-used social media app. It has the backing of Meta, which means it also comes with some warnings. Deceitful algorithms, the spread of misinformation, and the security of our data…
I guess we'll find out together.